The coronavirus outbreak has aggravated some of the most common mental health problems in the USA. In fact, the latest reports show that around 4 out of 10 Americans developed anxiety attacks or depression last 2020 alone.
Sadly, this turn of events has also caused a significant spike in fibromyalgia (FM) cases, primarily because increased anxiety exacerbates FM pain. In our discussion below, we'll tackle everything there is to know about the condition and how you can find fibromyalgia relief in Cape Coral during these troubled times.
A Brief Review on Fibromyalgia
Whether it's you or your family member who has fibromyalgia, having a full grasp of this condition can better manage the symptoms. It also allows you to find the most appropriate option to use for fibromyalgia relief in Cape Coral. Generally, fibromyalgia causes widespread muscle pain and stiffness plus other problems like:
Extreme exhaustion – 4 out of 5 patients diagnosed with fibromyalgia wake up tired even after sleeping for several hours. It mostly happens because of restless leg syndrome, increased stress and anxiety, and lack of restorative sleep.
Impaired cognition or fibro fog – Having cognitive issues is a norm for many FM patients. You might have problems concentrating or remembering things. It's also quite common for FM patients to have a hard time keeping up with conversations.
Sleeping difficulties – Lack of sleep tends to make fibromyalgia symptoms worst. Unfortunately, the condition also tends to trigger sleeping problems. Many patients with FM struggle to free themselves from this vicious cycle.
Migraines and headaches - On top of the musculoskeletal pain, many people with fibromyalgia also complain about migraines and headaches.
To learn more about the connection between head and neck injuries and fibromyalgia, download our complimentary e-book by clicking the image below.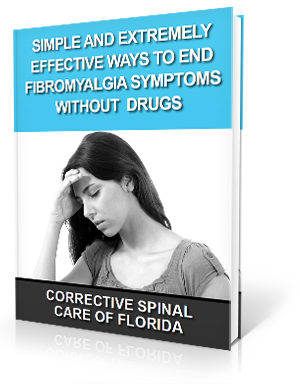 Fibromyalgia Common Complications
Besides the classic symptoms of fibromyalgia above, many patients list FM complications, including:
Irritable bowel syndrome (IBS)
Temporomandibular joint disorders (TMD)
Internal cystitis
Painful bladder
Chronic fatigue syndrome (CFS)
Osteoarthritis
Lupus
Rheumatoid arthritis
Possible Causes of Fibromyalgia
The root cause of fibromyalgia remains quite a mystery. Until today, the medical and research community continues to piece things together. Several theories try to explain why fibromyalgia develops in the first place. Many believe that more than one factor triggers this chronic pain disorder. Some examples of these factors include:
Previous or current infectionsor diseases - Some diseases tend to cause fibromyalgia symptoms to worsen. A few notable examples include osteoarthritis and other autoimmune disorders.
Your family history – Many patients seeking fibromyalgia relief in Cape Coral have other family members who share the same health problem.
Post-traumatic disorder – Some people who suffered from a traumatic experience such as an accident or other terrible events tend to develop post-traumatic stress disorder and fibromyalgia.
Spinal misalignment

- The spinal column houses important central nervous structures, the spinal cord, and the brainstem. If you have a spinal misalignment, you may develop central sensitization. Essentially, when this happens, your body enters a heightened state of sensitivity to pain, amplifying the effect of every touch or pressure stimuli on you.

Excessive stress and anxiety -

Many believe that the virus outbreak's mental health impact has aggravated or stimulated fibromyalgia symptoms.
Caring for Fibromyalgia During the Pandemic
Due to the increased number of stressors during the pandemic and certain limitations, it's crucial to carefully plan your approach to achieving lasting fibromyalgia relief in Cape Coral.
You can start by seeking medical assistance. With your primary healthcare provider's diagnosis, you get to discover the specific approach to use in managing your symptoms. Some examples of options used to relieve fibromyalgia symptoms include the following:
Try managing your condition with doctor-prescribed medications such as antidepressants, anti-seizure, and pain relievers.
Keep an active lifestyle despite being quarantined by trying yoga and meditation or doing a simple workout routine at home.
Talk to loved ones about your condition to gain emotional and mental support.
Look for a good distraction like starting a new hobby, watching films, trying bullet journaling, and other positive and productive activities.
Improve your sleeping routine to maximize resting time and help your body recuperate.
Get upper cervical chiropractic adjustments to restore the neutral alignment of the neck bones and the spine.
A Source of
Fibromyalgia Relief in Cape Coral
You Can Count On
In times like these, it pays to find a sustainable and long-term option for fibromyalgia pain relief. Thankfully, you can with upper cervical care. As we have mentioned above, this approach involves making gradual and gentle corrections to the upper cervical bone alignment.
Essentially, this technique helps you free your brainstem, nerves, and nearby muscles from the mechanical pressure coming from the neck bones that shifted. It aims to undo the effects of prolonged hours sitting on the desk, lack of ergonomic work furnishings, or previous neck or head injury on your neck structure.
Once your neck bones go back to their proper places, your fibromyalgia symptoms may become less bothering. Your body's communication pathways through the brainstem and spinal cord also go back to normal, helping you reduce your over-sensitivity to pain and pressure.
Slowly, your body gets to heal, and you begin experiencing a renewed strength and vitality. Imagine how life-changing upper cervical care can be for your ailing body.
Want to get a lasting fibromyalgia relief in Cape Coral today? Our team here at Corrective Spinal Care of Florida is ready to help you start your journey towards a pain-free life. Leave us a message online or call us at (239) 558-5866 to book an appointment.
To schedule a complimentary consultation, call our Cape Coral office at (239) 558-5866, or you can also click the button below.

If you are outside of the local area, you can find an Upper Cervical Doctor near you at www.uppercervicalawareness.com.