Although vertigo attacks don't pose a serious threat, they can severely impact the quality of your life. Doing usual activities such as going to work or completing household chores becomes difficult when you experience a spinning sensation.
Fortunately, there's a promising option to get lasting vertigo relief in Cape Coral. It's a science-backed pain relief technique that has helped many patients who display vertigo symptoms. Discover a new and all-natural method to ease your dizzying spells and other vertigo symptoms as you read on.
Five Likely Causes of Vertigo
Most of the vertigo cases all point to neck bones misalignment as the ultimate cause of the symptoms. The topmost neck bones, C1 and C2, can sometimes get misaligned after a neck or head trauma. Below are some of the top causes of vertigo that relate to neck bone structure problems.
Benign paroxysmal positional vertigo remains the leading cause of vertigo attacks. Most of the time, physicians diagnose vertigo patients with BPPV even if they don't precisely know the root cause of the condition. Combined with misaligned cervical bones, you could suffer from severe bouts of vertigo.
In a study involving 60 vertigo patients, they all received upper cervical chiropractic care. Forty-eight of these study participants reported resolution of their condition. The remaining 12 patients experienced less debilitating vertigo episodes.
Upper Cervical Awareness says 1 out of 12 migraineurs also experiences vertigo episodes. We refer to this specific condition as a vestibular migraine. It can arise from C1 bone misalignment, so you may experience vertigo relief in Cape Coral by undergoing upper cervical chiropractic care.
Supposedly, the C1 bone of the neck encases the brainstem, protecting it from damage. However, if you have misaligned neckbones, the pressure inside your skull increases. This affects the normal flow of blood and cerebrospinal fluid. The poor drainage and increased intracranial pressure can both trigger migraines and vertigo attacks.
To learn more about the connection between head and neck injuries and vertigo, download our complimentary e-book by clicking the image below.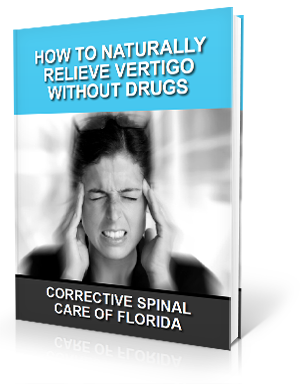 Meniere's is a vestibular disorder that happens because of excessive fluid inside one or two ears. If you have Meniere's, you may have frequent vertigo attacks, ringing in the ears, and even temporary hearing loss.
In a case study by Dr. Michael Burcon, 97 percent of the 300 patients who participated reported drastic improvements in their condition after undergoing vertigo chiropractic care.
The results of the study imply that neck bone misalignment causes ear congestion. The lesion on the eustachian tube or the canal connecting the middle ear and the nasopharynx triggers poor fluid drainage. Ultimately, this causes vertigo and other disabling symptoms.
If you got diagnosed with multiple sclerosis, this means that your body actively attacks your nerves. This results in a degraded myelin sheath, the protective layer around your nerves. As multiple sclerosis progresses, scar tissues develop, and you may experience worse symptoms such as vertigo and loss of balance perception. If you have misaligned neck bones, you may have a worse form of multiple sclerosis and vertigo episodes.
Fortunately, you might be able to experience relief with neck bone adjustments. In a study, 40 out of 44 participating MS patients showed reduced disease progression while receiving upper cervical care.
Many patients who had a history of neck or head injury found success in upper cervical chiropractic care. They experienced lasting vertigo relief in Cape Coral thanks to gentle, gradual, and precise adjustments. If you also suffered from an accident that caused head or neck trauma, it may be worth it to seek the help of a chiropractor. Post-concussion syndrome symptoms could appear days, months, or years after the incident, so don't hesitate to seek help if you start experiencing vertigo episodes.
Where to Get Lasting Vertigo Relief in Cape Coral
It may surprise you how a simple neck bone misalignment can cause a plethora of health issues such as vertigo attacks.
Here at Corrective Spinal Care of Florida, we help our patients correct bone misalignments. We use advanced digital imaging equipment and tactics to gauge the adjustments needed accurately. Here are the primary things you can expect when seeking vertigo relief from a neck chiropractor:
Possible confirmation of the cause of your condition
Like a typical visit to your primary healthcare provider, a visit to an upper cervical chiropractor also involves filling out a patient history form. We aim to have an in-depth understanding of your overall condition to provide the best care for you. It can also help us pinpoint the possible causes of your neck bone structure problem. We then perform physical tests to assess your situation. Finally, you will undergo an x-ray examination to determine the key points that require adjustment. It will also help us customize the approach to use during the adjustment.
The actual upper cervical adjustment
Once we have a deeper understanding of your overall condition and the severity of the neck bone misalignment, you will start receiving the adjustments. Rest assured, we plan each adjustment carefully, ensuring that they will hold even after months of completing the sessions.
Experiencing frequent vertigo episodes can indeed make a significant impact on your daily activities. Fortunately, now that you're well-acquainted with the secret to vertigo relief, you can begin to tread a more promising path towards healing and recovering from your symptoms.
If you would like to try a new and all-natural means to vertigo relief in Cape Coral, you can visit our office. Do not hesitate to schedule an appointment for a consultation through our web form or call us at 239-558-5866 for your inquiries about upper cervical chiropractic.
To schedule a complimentary consultation, call our Cape Coral office at (239) 558-5866, or you can also click the button below.

If you are outside of the local area, you can find an Upper Cervical Doctor near you at www.uppercervicalawareness.com.